IMG_20210916_075440W
New step-change primary school for Calderwood
Slide
New nursery for the village
Slide
Bright modern spaces for optimal learning
Everything you need, in one place.
Along with these natural amenities, Calderwood Primary School & Early Years Nursery opened in September 2021. This new, exemplar school will serve the community, not only as an educational facility, but for public use also. A new village square will be built, adjacent to the school and nursery, to provide essential services.
Calderwood's setting is one of the key features that sets it apart from all other developments. The 230 acres of beautiful country park surrounding the village offers a beautiful public realm – waiting to be explored and enjoyed.
The Country Park is contained in a sunken valley, with the river Almond meandering through it. The park has its own sheltered climate and instills peace and harmony in all those that walk or cycle through its enchanting network of paths and open spaces.
---
Lifestyle
Calderwood's landscape offers scenic beauty and opportunities to connect with nature. Our plans have tried to find a harmony between conservation and creation. Conservation of areas where nature is self-governing, independent from human direction and control and areas of creation, establishing new habitat and eco-systems.
Slide
River Almond flowing through the Almondell & Calderwood Country Park adjacent to Calderwood
Slide
Children enjoying the good weather in the River Almond
Slide
Community events held at Calderwood
Slide
Establishing a community orchard
Located within the heart of Calderwood is a thriving community garden. This was delivered by Stirling Developments a few years ago and has been steadily growing in popularity ever since.
Peter Stirling (Managing Director at Stirling Developments) kindly gifted some strawberry plants from his Seahills Farm in Arbroath for residents to nurture, harvest and enjoy.
Fancy volunteering your green fingers/getting involved/bagging a growing box? Join the 'Calderwood Community Garden' Facebook page for more information.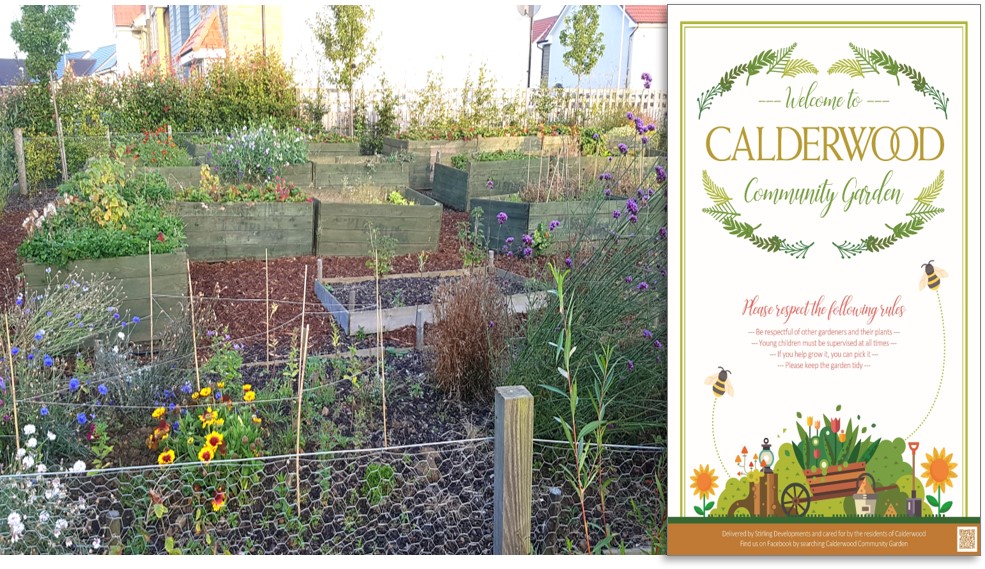 ---
Events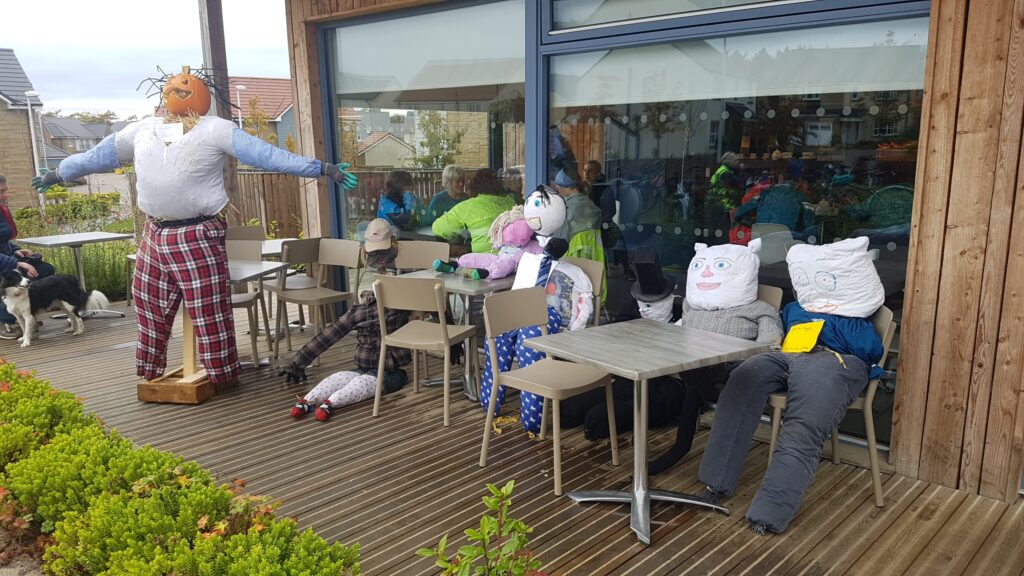 Community events
The growing community at Calderwood is what makes this new settlement truly special. To celebrate the sense of community at Calderwood, we enjoy organising events for the community to enjoy including competitions for children, guy building festivals and bonfire nights.
Every spring Stirling Developments runs a fruit tree planting initiative to welcome new residents to Calderwood. Planting fruit trees in new front gardens helps the team get to know the community and helps the environment flourish. Not to mention the bees love them too!
Calderwood Café opens
At the heart of the Calderwood community is our café. It is always great to see the café and beautifully landscaped garden area full of residents enjoying a coffee or lunch.
The café has also created jobs for local teenagers making it a true community asset.
From seeds to trees
The local primary school, along with the Almondell and Calderwood Country Park Ranger, walked the Country Park to learn and collect seeds. These seeds were then grown and planted in Calderwood to complement the enhanced landscaping.
We are proud to encourage these events where children's outdoor learning is endorsed and the natural environment wins.